Singaporeans who wish to find out if they require a visa to visit a particular country should contact the country's representative closest to you to be apprised of the latest requirements.

All foreign visitors must ensure that they meet or possess entry requirements as stated by the Singapore Immigration and Checkpoints Authority (ICA). Please click here for the requirements.

US Passport Holders (regular, official and diplomatic) do not require a visa to enter Singapore for business or for social visit purposes. They must, however, meet the entry requirements as mentioned above.

Visa policy map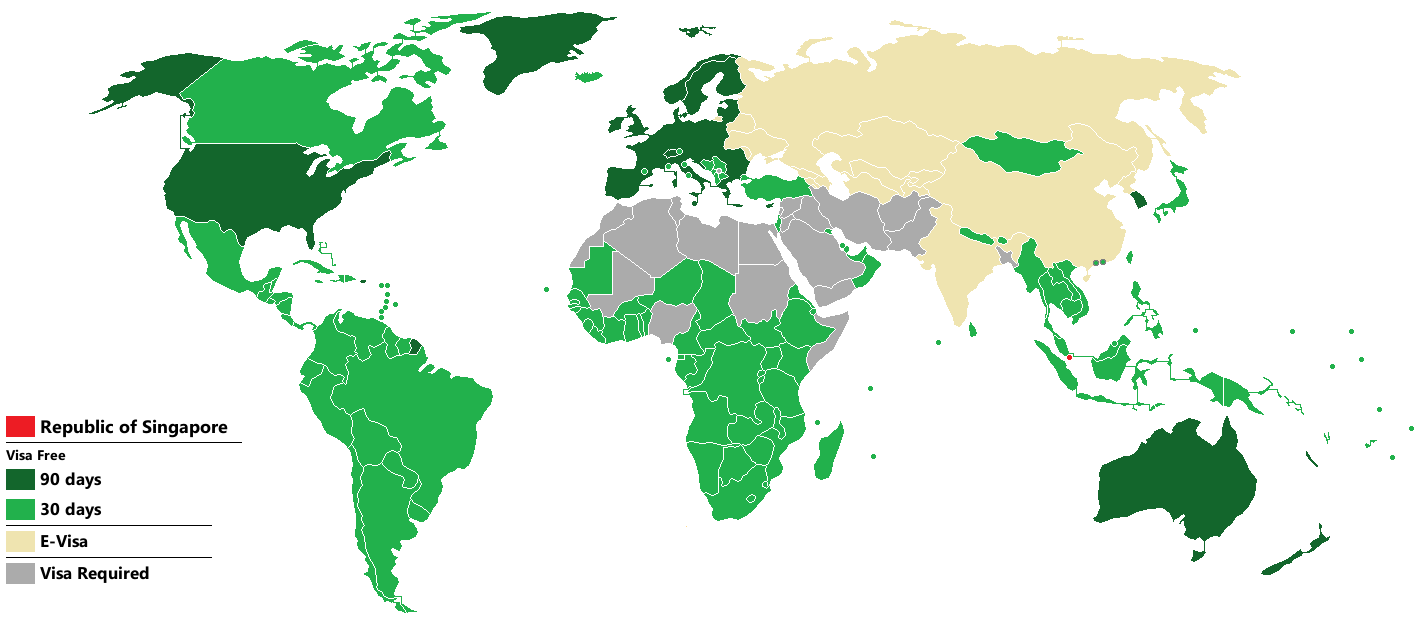 Countries/Regions which require a visa for entry into Singapore

If your travel document is issued by one of the countries or regions below, you will need a visa to enter Singapore: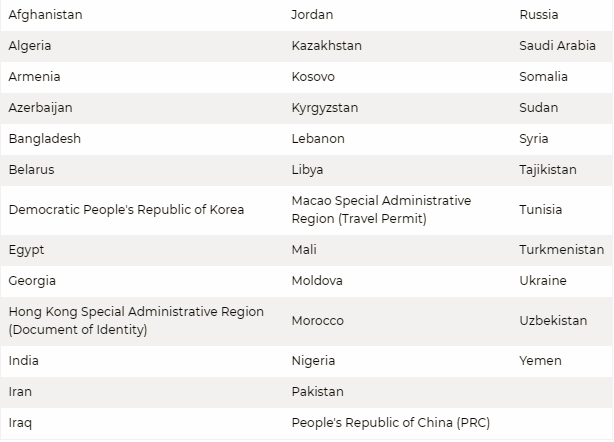 You will also need a visa if you are travelling on:

▪ A Palestinian Authority passport
▪ A temporary passport issued by the United Arab Emirates
▪ Refugee travel documents issued by a Middle East country. These travel documents are subject to assessment of recognition for entry into Singapore.

A Singapore visa is not an immigration pass. It is a pre-entry permission for the holder of a valid Singapore visa to travel to, and seek entry, into Singapore. The grant of an immigration pass will be determined by the ICA officers at the point of entry. Possession of a valid visa alone does not guarantee entry into Singapore. The period of stay granted is shown on the visit pass endorsement given on your passport and it is not tied to the validity of your visa.

Visa-Free Transit Facility

Nationals of the Commonwealth of Independent States, Georgia, India, The People's Republic of China (PRC), Turkmenistan and Ukraine may be eligible for the Visa-Free Transit Facility (VFTF).

More Information, please visit https://www.mfa.gov.sg/Overseas-Mission/Washington/Visa-and-Entry-Requirements


Invitation Letter

A Letter of Invitation is a proof for conference registration and attendance application. It will be stated in English and may help with your visa application. However, it does not guarantee you a visa. Invitation letters will only be issued once your registration and payment have been confirmed. And it will be sent by e-mail.

For those who require a visa, please note that the Organizing Committee has no control over the visa application process, or the decision of the visa adjudicator in the embassy or consulate. The conference cannot be responsible for actual visa issuances. The process length varies from individuals, you're strongly advised to start your application as soon as you can..

Should your application be denied, we cannot change the decision of the Ministry of Foreign Affairs, nor will we engage in discussion or correspondence with the MOFA or the Embassy on behalf of the applicant.