ICDIP 2022
20-23 May 2022 | Wuhan, China (Virtual)
The 14th International Conference on Digital Image Processing (ICDIP 2022) was held virtually during May 20-23, 2022 due to the continue COVID-19 disruption. ICDIP 2022 was organized by School of Computer Science, China University of Geosciences (Wuhan), China.

ICDIP 2022 program included keynote speeches, invited speeches, doctoral consortiums and parallel sessions reflecting the state-of the research in digital image processing. Twenty-five renowned scholars from Greece, France, UK, China, Egypt, Argentina, Japan, etc. delivered the keynote speeches and invited speeches. In addition, sixteen parallel technical sessions were successfully conducted with the efforts of the session chairs and presenters.

At the awards and closing ceremony, sixteen best presenters were announced.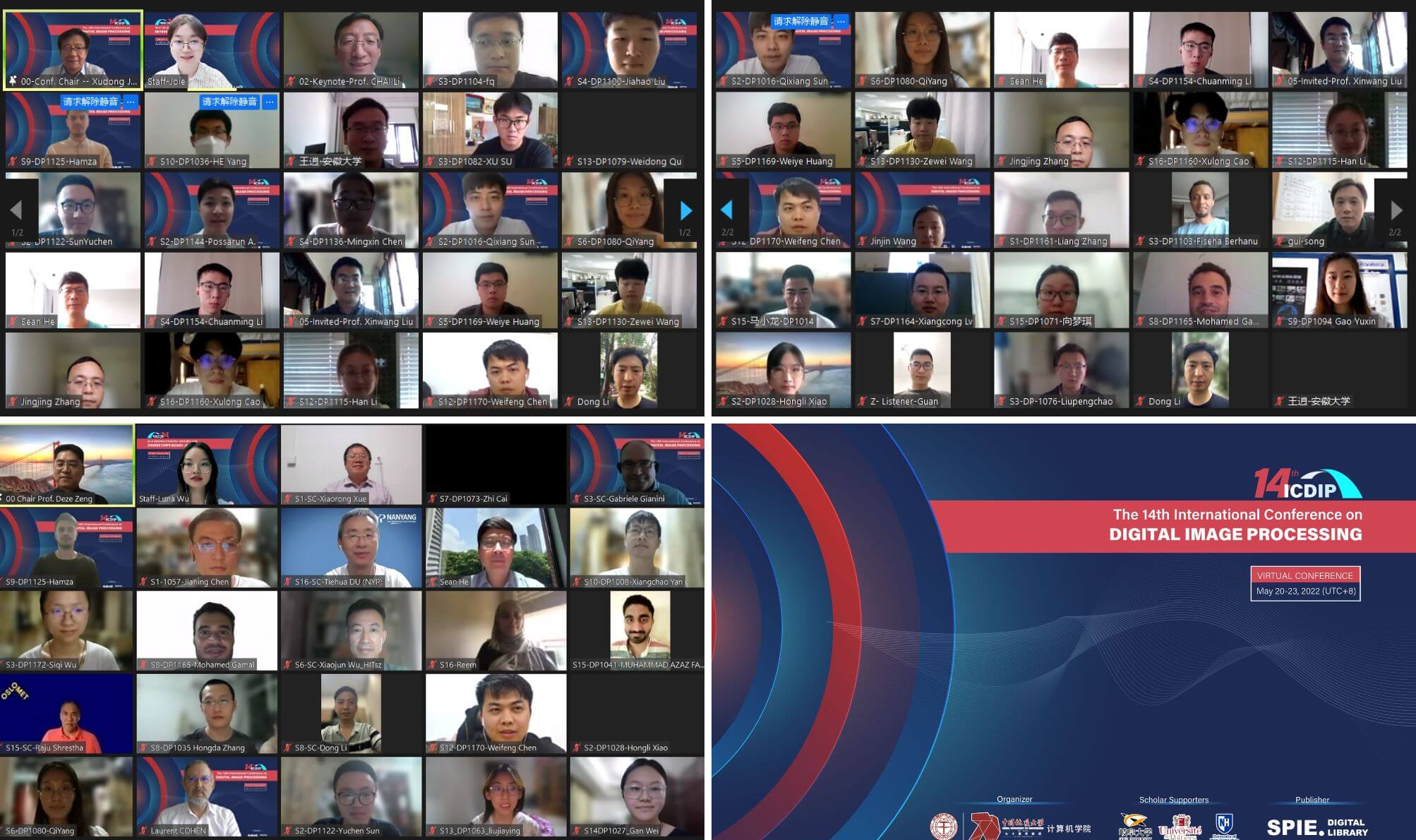 20-23 May 2022 | Wuhan, China (Virtual)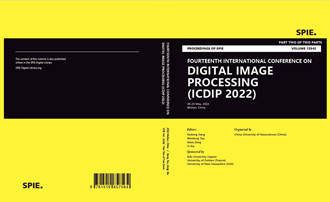 ISBN: 9781510657564
ISBN: 9781510657571 (electronic)

SPIE Digital Library

Ei Compendex | Scopus | CPCI (Web of Science)
Conference Chairs


Prof. Xulong Lai
Vice President
China University of Geosciences (Wuhan), China
Prof. Lizhe Wang
IEEE Fellow, SPIE Fellow
China University of Geosciences (Wuhan), China

Prof. Xudong Jiang
IEEE Fellow
Nanyang Technological University, Singapore

Prof. Ji Wu
Tsinghua University, China
Prof. Deze Zeng
China University of Geosciences (Wuhan), China
Keynote Speakers


Prof. Laurent Cohen
IEEE Fellow
Universite Paris Dauphine, France

Prof. Jingyi Yu
IEEE Fellow
ShanghaiTech University, China

Prof. Ioannis Pitas
IEEE Fellow
Aristotle University of Thessaloniki, Greece

Prof. Li Chai

Zhejiang University, China
Invited Speakers


Prof. Yudong Zhang
University of Leicester, UK

Prof. Xiangjian He
University of Nottingham Ningbo China, China

Prof. Gui-Song Xia
Wuhan University, China

Prof. Leyuan Fang
Hunan University, China

Prof. Jianming Lv
South China University of Technology, China

Prof. Xinwang Liu
National University of Defense Technology, China

Prof. Hongbo Fu
City University of Hong Kong, Hong Kong, China

Prof. Roman Dremliuga
Far Eastern Federal University, Russia

Prof. José María Massa
Buenos Aires Center Province National University, Argentina
Prof. Yoshito Mekada
Chukyo University, Japan

Prof. Tao Zhou
North Minzu University, China

Prof. Jindong Xu
Yantai University, China

Assoc. Prof. Laurent Kneip
ShanghaiTech University, China

Assoc. Prof. Junchi Yan
Shanghai Jiao Tong University, China

Assoc. Prof. Chunzhi Li
Huzhou University, China

Assoc. Prof. Chaoying Tang
Nanjing University of Aeronautics and Astronautics, China

Assoc. Prof. Bingxin Liu
Dalian Maritime University, China

Assoc. Prof. Qiang Zheng
Yantai University, China
Assoc. Prof. András Horváth
Peter Pazmany Universtiy, Hungary

Assoc. Prof. M. Hassaballah
South Valley University, Egypt

Dr. Qingyong Hu
Oxford University, UK
Parallel Sessions

Session Chairs

Session 1
Prof. Xiaorong Xue, Liaoning University of Technology, China
Session 2
Assoc. Prof. Yanmei Yu, Sichuan University, China
Assoc. Prof. Feng Zhang, China University of Geosciences (Wuhan), China
Session 3
Assoc. Prof. Gabriele Gianini, The University of Milan, Italy
Session 4
Prof. Syed Abdul Rahman Syed Abu Bakar, Universiti Teknologi Malaysia, Malaysia
Session 5
Prof. Tao Zhou, North Minzu University, China
Prof. Zhaohui Wang, Hainan University, China
Session 6
Assoc. Prof. Xiaojun Wu, Harbin Institute of Technology, Shenzhen, China
Session 7
Prof. Yoshito Mekada, Chukyo University, Japan
Session 8
Assoc. Prof. Dong Li, Shenzhen University, China
Assoc. Prof. Chuanqi Cheng, Engineering University of PAP, China
Session 9
Prof. Sabah Jassim, University of Buckingham, UK
Session 10
Prof. Krzysztof Koszela, Poznan University of Life Sciences, Poland
Session 11
Prof. Hong Zhang, Georgia Southern University, USA
Assoc. Prof. Peishun Liu, Ocean University of China, China
Session 12
Assoc. Prof. Jingjing Zhang, China University of Geosciences (Wuhan), China
Session 13
Assoc. Prof. Xiaoli Zhang, Jilin University, China
Session 14
Prof. Hongbo Fu, City University of Hong Kong, Hong Kong, China
Session 15
Assoc. Prof. Victor Sanchez, University of Warwick, UK
Assoc. Prof. Raju Shrestha, Oslo Metropolitan University, Norway
Session 16
Prof. Alessandro Rizzi, University of Milan, Italy
Dr. Tiehua Du, Nanyang Polytechnic, Singapore

Session 1-Best Presenter
Jianing Chen
Peking University, China

Session 2-Best Presenter
Hongli Xiao
Northwestern Polytechnical University, China
Session 3-Best Presenter
Siqi Wu
South China University of Technology, China

Session 4-Best Presenter
Zhiwei Wang
Beijing Institute of Technology, China
Session 5-Best Presenter
Weiye Huang
Hohai University, China

Session 6-Best Presenter
Zhaoshun Liang
Huazhong University of Science and Technology, China

Session 7-Best Presenter
Zhi Cai
Shanghai University of Electric Power, China
Session 8-Best Presenter
Hongda Zhang
Fudan University, China

Session 9-Best Presenter
Muhammad Hamza
University of Science and Technology of China, China

Session 10-Best Presenter
Jieji Ren
Shanghai Jiao Tong University, China

Session 11-Best Presenter
Hong Lin
Macao Polytechnic University, China

Session 12-Best Presenter
Han Li
Shandong Agricultural University, China

Session 13-Best Presenter
Ye Cai
South China University of Technology, China

Session 14-Best Presenter
Wei Gan
University of Chinese Academy of Sciences, China

Session 15-Best Presenter
Muhammad Azaz Farooq
Shenyang Aerospace University, China

Session 16-Best Presenter
Qing He
University of Science and Technology of China, China